Workshops | Beginner Calligraphy Classes in Macon, Georgia
Learn Calligraphy with Me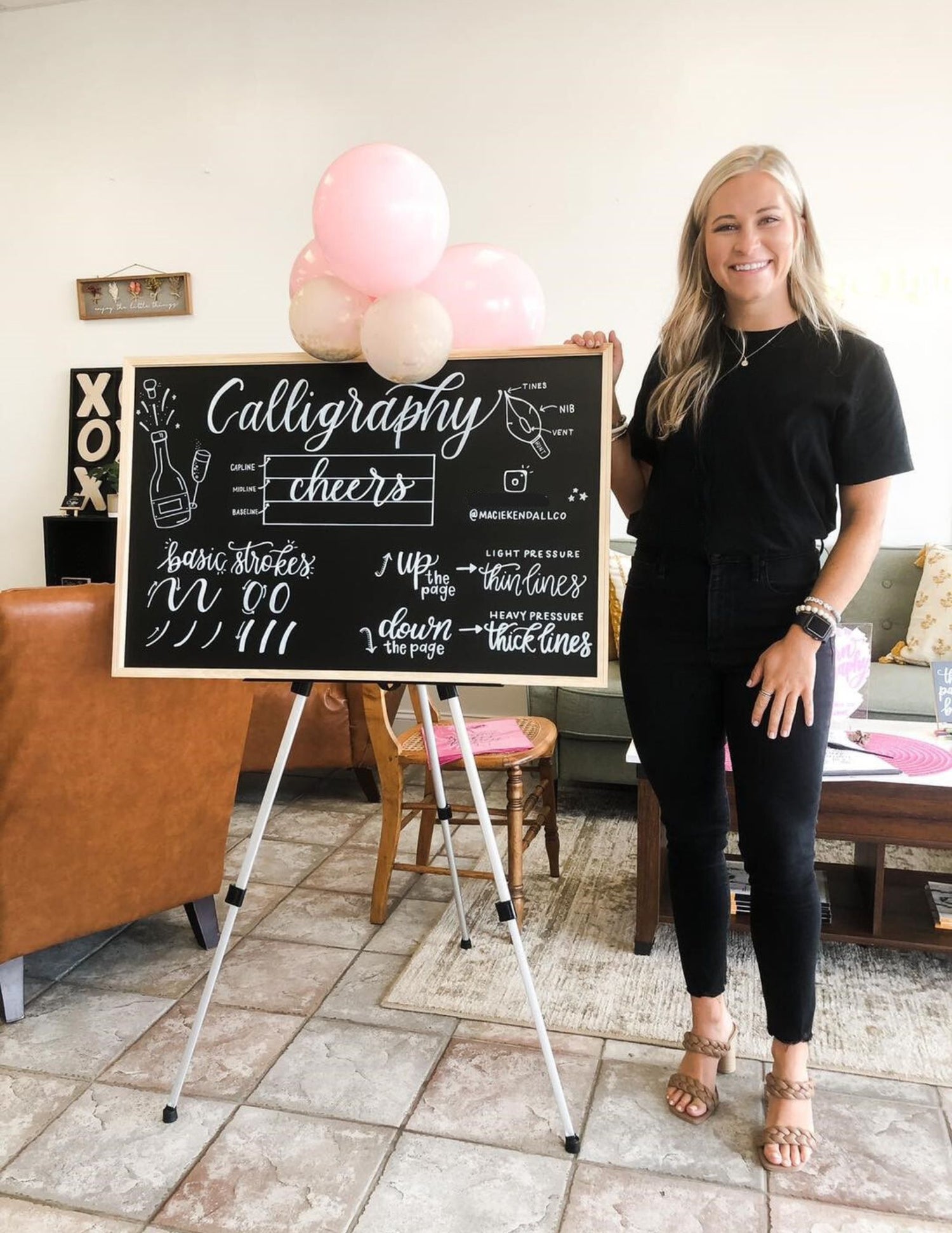 Beginner Calligraphy Class in MIddle Georgia
In-person calligraphy workshops are a great opportunity to develop your lettering skills, whether you've never used a nib (what's that?) or you have some experience with the basic strokes. I have taught calligraphy to 250+ students in the Middle Georgia area. This beginner class is perfect for you if you are
✔ New to calligraphy and want to learn how to create beautiful envelopes and notecards
✔ A DIY bride creating your own signage, place cards, or invitations for your big day
✔ Looking for a creative hobby and want to learn the basics of lettering at a cool local venue
✔ Planning a night out with friends and want to try something new
Beginner calligraphy classes in Macon, Georgia, are hosted at local restaurants, coffee shops, bars, and bakeries to provide a fun learning environment. All materials are provided for you, and you take them home at the end of class to continue practicing your new *favorite* creative skill.
2024 Class Schedule Coming Soon!
A glimpse into calligraphy class
Learn the basics of lettering...

The basic strokes are foundational for learning calligraphy. You will learn all about upstrokes, downstrokes, and letter forms. Holiday classes will create hand-lettered ornaments to take home. All of your new tools are yours, so you can continue practicing!

Receive 1:1 feedback...

Hands-on feedback helps you learn in a way that you can not get from a book or video. Events are workshop style to ask questions and get 1:1 support as you practice your new skill.

Meet friends at local venues...

Plan a fun night for yourself (or a date night). Each venue is a unique environment that welcomes you with seasonal drinks, snacks, and more. Meet new friends in class who have similar creative interests.
Are you a venue interested in hosting a calligraphy workshop?
Small businesses and local venues are the ideal locations for beginner calligraphy workshops. What makes a great spot for class? Coffee shop, restaurant, brunch spot, cocktail bar, flower shop — if you have a local venue (drinks and snacks are a plus), you're already the perfect spot to host a workshop. Many class participants are new customers for you, coming early and staying late to enjoy the atmosphere and purchase food and beverages. Your brand receives more exposure and social media engagement as participants take photos, tag your business, and share their experience!
Want more info? Contact Macie to share details about your business and request a Venue FAQ.
Request Info about hosting a class
What are previous students saying?
"I had the pleasure of attending one of her group calligraphy classes and she was a perfect hostess and teacher - gave us all the confidence to try calligraphy and guided our learning. It was perfectly paced and fun."

— Lindsey C.

"Thanks for my new hobby! Years ago I tried to learn from a book and never got the hang of it. This is just what I needed. Loved our class and looking forward to the next fun class!"

— Jan H.

"The holiday lettering workshop at our coffee shop was a fun and unique Christmas event. Her teaching was easy to understand and decorations were so cute. I definitely recommend her class for a girls' night out."

— Morgan C.